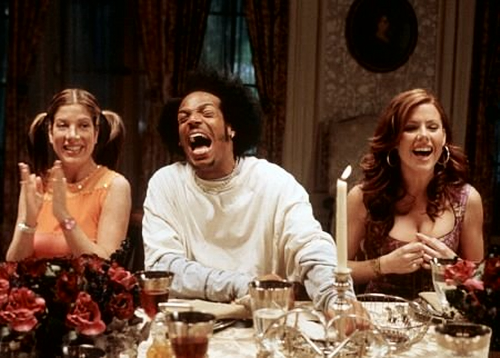 "Can you believe Thaksin paid 18 million for me... he must have been high, son!"
According to latest reports, everyone's favourite Marlon Wayans (and professional footballer) impersonator, Jo, is said to be the target of five (count 'em!) separate football clubs. Yes, to actually play football for them...
The 23-year-old Jo — full name: For Fuck's Sake Jo — was thought to be on the radar of Greek giants Olympiakos, however this has been denied by his agent.
"There is no option for Jo to go to Greece," said the luckiest Mister-Ten-Percenter in the business, much to the relief of Olympiakos fans worldwide.

"Jo has five offers right now from clubs outside of England but he doesn't want to leave."

"There is no offer from Olympiakos. We have offers from Spain, France and Russia." And from Manchester City fans willing to drive him wherever required, he didn't add.
I can only assume that Bobby Manc is afflicted with a similar condition to that of Jack Black in 'Shallow Hal'. However, rather than becoming smitten with a grossly obese woman — Don Roberto has fallen head over heels for a (alleged) Brazilian (alleged) footballer, who was once deemed surplus to requirements at Everton and Galatasaray. Yes, the same Everton that once paid Lucas Neill a weekly wage.
In other news, City's fifth-choice left back, Wayne Bridge, is apparently set to decide which claret-and-blue clad Premier League club he'd like to relegate — with both West Ham and Aston Villa interested in signing the only man who uses his left foot for both accelerating and braking.