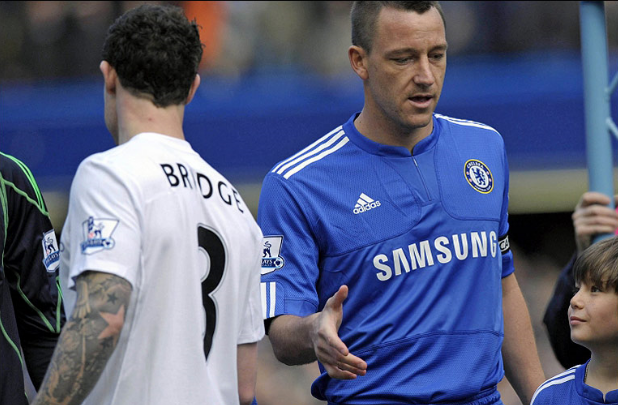 Wayne Bridge proves he is as useless with his right hand as he is with his right foot, missing an easy handshake by at least two feet...
Sub-editors across the globe were predictably tripping over themselves to be the first to publish a headline with a gratuitous Simon and Garfunkel pun, as Wayne Bridge joined the troubled West Ham (damn, it's an easy trap to fall into) on loan for the rest of the season.
The 'Ammers will even pay the full whack of Bridge's £90,000 weekly wage, as they desperately try to undo the damage caused by playing Tal Ben Haim in defense all year.
Bridge was Mark Hughes' first true post-takeover signing, joining the club in January 2009 for the typically frugal figure of £11 million.
"I am glad the loan is sorted and I'm ready to play. It will be great to play a part in helping keep West Ham in the Premier League. It would be a big achievement."

"I know a few of the players from England and I know the physio," he continued, without an apparent hint of irony, considering his injury-plagued time at City.

We've spent a lot of money in recent times, but it seems awfully hard to justify £20 million pounds of investment on a player who aside from his early days at Southampton, has robbed a career as an okay left-back and serial bench-warmer. One who you'd suspect would happily go all Winston Bogarde on us and sit back and collect a wage for doing not much at all...