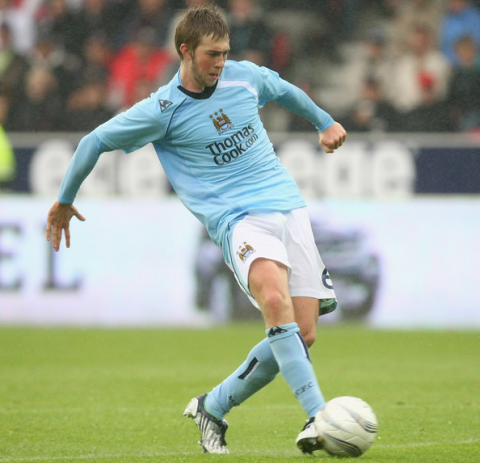 Michael Johnson successfully completing a back-pass from the penalty spot against FC Midgetland.
Astonishingly, Michael Johnson has managed to complete an entire interview (and a half of football) without picking up another season-ending injury, playing forty-five minutes in the Elite Squad's 4-0 win over Rochdale.
The 22 stone year-old midfielder has not started a game for the club since a 3-0 win at the Stadium of Light back in September 2008 — lining-up along side world-class talents such as a Tal Ben Haim and Gelson Fernandes.
"It was good to be out there. It has been too long as it has been over a year since my last game."
"I felt good, although a bit rusty at times. Fitness-wise, I am there or thereabouts," he added, before skolling his pint to get one more in before the teams came out for the second half.
What happens next is anybody's guess. The kid has ability, but is he good enough to get us where we're going, even on the off-chance he regains full fitness?
The tub-thumping, Rag-hating, "Adam Johnson should start every game" faction will continue to compare him to the great Colin Bell based on a couple of goals three seasons ago — some have even gone so far as suggest he's adequate cover for David Silva. But with the several gazillion pounds of talent the bench this season, he'll be doing well to make more appearances than Stuart Taylor.
A loan to a team in the 'Lekkie Leagues, such as Preston or Leicester, would be ideal for all parties.
On a not completely unrelated theme, Roque Santa Cruz is going to have to scoot up a bit on the treatment table to make room for Mario Balotelli, who is set to miss yet another month of football with knee-ouch. So that'll be another month of having his picture taken with some tandoori-basted, fake-norked floozy before doing one back to Milan, then.
And people wonder why the kid doesn't smile?