Regular readers (or more correctly, people who mistakenly click on our links on NewsNow) may have been
disappointed
relieved to see that we haven't as yet commented on the big Ropey League blockbuster between Manchester City and Aris, Aris, Who The Fuck Are Aris FC from earlier in the week.
We could argue that LiP has better things to do at 4am Wednesday than watch football. Perhaps sleep, or even, you know, engage in a relationship with a member of the opposite sex. But, you don't become the leading only Australia-based Manchester City blog by being distracted by other such frivolities.
Truth be told, apart the odd chortle at the names of a few opposition players — a practice now customary since Alan turned out for Energy Drink Consortium FC — there was nowt much to write home about.
Ricardo Faty and Darcy Dolce Neto were popular choices in the comedy-name stakes — although if Aris are to progress to the next round, he Asda play better than he did on Wednesday, but there's probably Lidl chance of that happening.
Neto also had the annoying habit of going down way too easily when approached by other men. Which in my personal experience with women of Greek heritage, seems to be a common trait...
Personally, I was a big fan of the rice-cracker enthusiast Sakata, who thankfully for the home fans, comes with his own ready-made, fresher-in-foil,
terrace chant
.
However, a couple of days after the match itself was long forgotten by those that sat through the 90 minutes of blah, it was revealed that this bit of Photoshop genius somehow made its way into the Official Match Programme: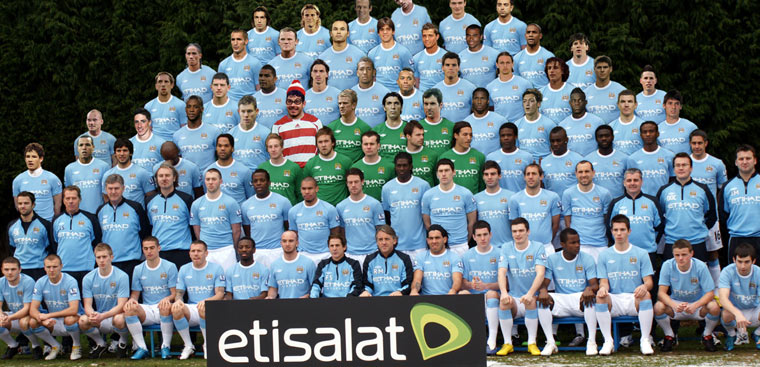 Doctored photograph of the Manchester City squad, starring such players as Lionel Messi, Zlatan Ibrohimivic, and Loyal Wayne. Francesco Toldo makes an appearance as Where's Wally/Waldo. [SPOILER] Wally can be found just to the left of Joe Hart and the right of James Milner.
It was apparently not before Garry Cook thumbed through the programme at a pre-match function that the error was discovered, but how Aris managed to cock this up is anyone's guess. Surely an electronic communique in the weeks prior to the match could have confirmed that yes, City do/do not have a first-team squad size that rivals any NFL team. Even typing "Manchester City ομαδικός φωτογραφία" into Google images (that's "Manchester City Team Photo" for those who don't live in the land of the Doner) reveals a
few interesting results
, not least of which a Three Wolf Moon t-shirt. But alas, no bloated team photo.